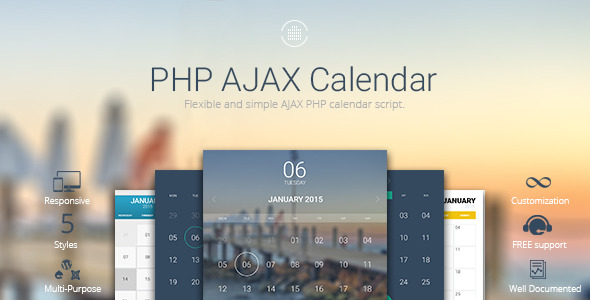 This AJAX Calendar will save You a lot of time for client-side scripting. And can be used in any type of Content Management Systems such as WordPress, Joomla, Drupal etc. Also it can be used by programmers in developing their own projects.
AJAX Calendar can display information from Your database. Due to AJAX there is no need to reload page during navigation through the dates.
The left and right arrows allows You to navigate through monthes and years by going over the next and previous monthes. Or You can use dropdown select boxes for fast search. To set current day You can click Today button. Also You can configure the look of the calendsr by turning On/Off different elements, such as calendar header and control elements. Events from the calendar can be displayed in scrollable pop up window.
Visual Appeal – Ajax Calendar includes rich set of skins for modern look and easy styling.
It should be noted that calendar is 100% fully responsive.
Features
100% Responsive
5 Modern Skins
Flexible and Multi-purpose
Easy to customize
Completely customizable from CSS
Free Google Font used
Extended Documentation
And Much More…